Activity Info
laptop_mac
Live Virtual Activity
---
---
Desi Rainbow: Inclusive Eid Celebration
This activity occurred in the past and is now expired
Desi Rainbow: Inclusive Eid Celebration
Desi Rainbow Parents & Allies: Inclusive Eid Celebration
Ramadan Mubarak! We are excited to announce our Inclusive Eid Celebration on Saturday, May 5th at 8pm ET/7pm CT/5pm PT.
Eid is celebrated as a major holiday by millions of South Asians, with a dazzling diversity of language and cultural traditions. For queer folks and for their parents and families, festivals can bring up feelings of isolation and alienation. Desi Rainbow Parents and Allies invites all LGBTQ+ folx, their families and allies to an Inclusive Eid Celebration, celebrating all gender identities and sexualities. Kids of all ages are welcome!
Support our efforts to uplift LGBTQ+ Muslims and their families! Become an Eid Sponsor.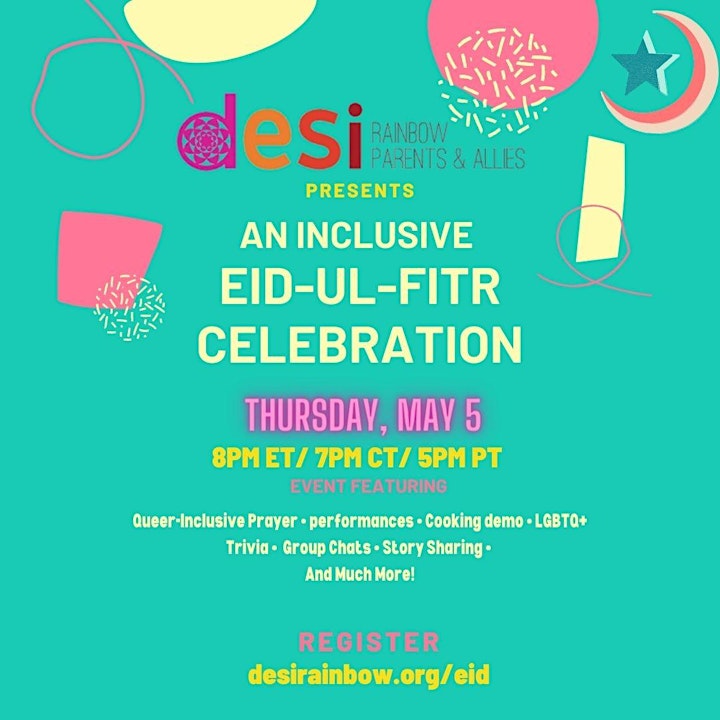 ---
Disclaimer: This is a live activity. While we do our best to monitor content uploaded to and linked from our website, we cannot guarantee the quality, relevance, and suitability of live content. If you spot anything inappropriate, please don't hesitate to report this activity!
---
Related activities