Activity Info
group
Live In-Person Activity
replay Saturdays
End date: June 24, 2022
---
---
Nature Club - Kidz Can Play
This activity occurred in the past and is now expired
Nature Club - Kidz Can Play
Nature Club - Outdoor Immersion at the Community Garden
Nature Club is a new program initiative from Kidz Can Play Inc. (@kidzcanplay) that is in partnership with the Climate Smart Victory Garden in Sharon, Ontario.
Nature Club is a space for kids and families to connect with themselves, each other, and the world around them in a relaxed community environment. This program is located at Sharon-Hope United Church Community Garden (Leslie & Green Lane).
Children and families will have the opportunity to spend the morning outside, in a relaxed environment, learning through exploration and play. Some activity options could include garden care, seed planting, shelter building, nature walks, crafts, mindfulness and more. You are welcome to bring a picnic to enjoy a morning snack under the trees.
After joining Nature club for 8 weeks, kids can receive a Climate Smart Participation Certificate along with organizing our final "Harvest Potluck".
Our goal with this intergenerational program is to strengthen the connection families have to their community and the natural world and learn to create a self-sustaining garden.
All ages are welcome with parent supervision.
This program is by donation. (50% of the proceeds will go towards the maintenance and improvement of the Climate Smart Victory Garden-Sharon and the rest is to buy supplies for our program).
To register for all 8 weeks please visit www.kidzcanplay.ca/natureclub.
Drop Ins are welcome.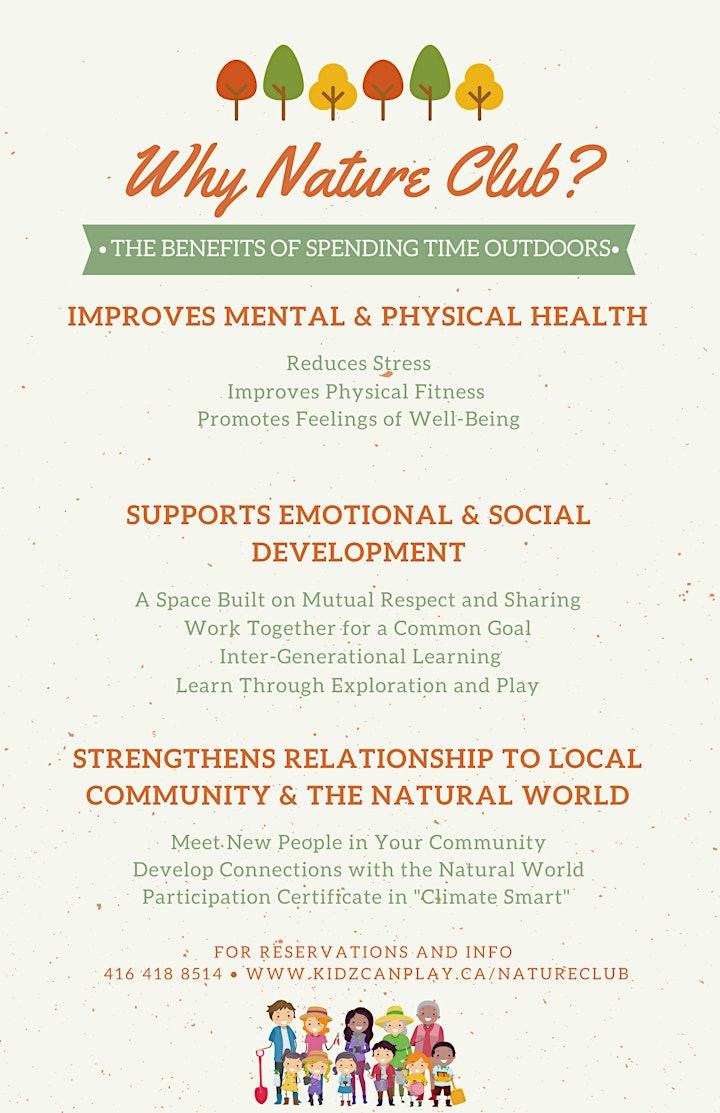 ---
Disclaimer: This is a live activity. While we do our best to monitor content uploaded to and linked from our website, we cannot guarantee the quality, relevance, and suitability of live content. If you spot anything inappropriate, please don't hesitate to report this activity!
---
Related activities
location_on Sharon-Hope United Church , 18648 Leslie Street
Aurora, Ontario
L0G 1V0
---
---
mail
---
block
---